Chinese Rules
Mao's Dog, Deng's Cat, and Five Timeless Lessons from the Front Lines in China
- Tim Clissold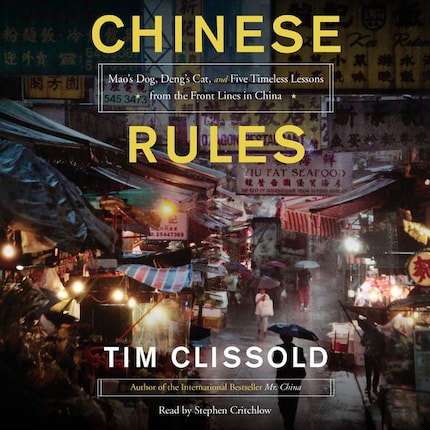 Samenvatting van het boek
From the author of the international bestseller Mr. China comes another rollicking ride through the slick mega-cities and industrial backwaters of twenty-first-century China—part adventure story, part erudite myth-buster, and part practical rule book to help Westerners win in China.

China's role as struggling underdog is now firmly a thing of the past. The world has tilted eastward in its orbit even as the West seems mired in self-doubt. Through living and working in China for more than two decades, Tim Clissold has uncovered stealth methods Westerners can use to straighten out complicated situations in China and achieve their own objectives.

Revealing the hidden logic that governs the Chinese business and political landscape, Clissold puts China's cultural, political, and military history into context and explains the mind-set that drives Chinese political and business leaders—a resource that has been sorely lacking in most books about doing business in China.

Here, with sharp observations and a deep appreciation for China's rich past, Clissold presents five rules anyone can use to deal effectively with modern Chinese counterparts. These include understanding that:

China has its own set of rules that provide a unique pathway to success; the quest for stability overrides all others; in China, one should never attack directly; in solving problems, stick to practicalities and avoid arguments over theory; and knowing yourself and knowing the "other" will help you survive a hundred battles.Combining exuberant storytelling, sly humor, and counterintuitive insights, Chinese Rules traces Clissold's latest adventures, providing an object lesson in the contradictions between reality and conventional belief that continue to make China a fascinating, perplexing, and irresistible destination for Westerners.