Scarlet and Ivy: Audio Collection Books 1-3

- Sophie Cleverly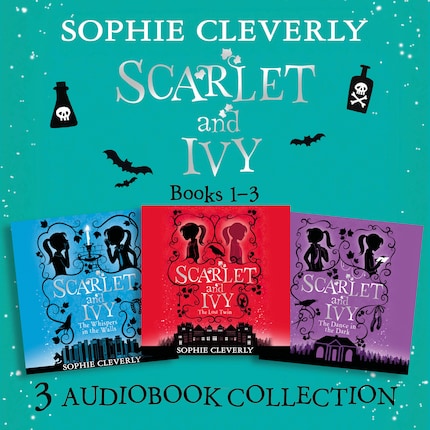 Overzicht
Three spine-tingling mysteries for Scarlet and Ivy to solve in the creepily atmospheric Rookwood School…

THE LOST TWIN
When troublesome Scarlet mysteriously disappears from Rookwood School, terrifying Miss Fox invites her quiet twin sister Ivy to 'take her place'.

Ivy reluctantly agrees in the hopes of finding out what happened to her missing sister. For only at Rookwood will Ivy be able to unlock the secrets of Scarlet's disappearance, through a scattered trail of diary pages carefully hidden all over the school. Can Ivy solve the mystery before Miss Fox suspects? Or before an even greater danger presents itself?

THE WHISPERS IN THE WALLS
The twins have been reunited, but are definitely not out of danger…

Evil Miss Fox may have fled the scene, but headmaster Mr Bartholomew is back, imposing a reign of terror with his threats of epic punishments should any of the pupils step out of line.
When possessions and food start going missing, and the finger of suspicion is pointed firmly at troublemaking Scarlet, she knows she must uncover the truth to clear her name.

The twins' investigations through the school in the dead of night reveal a secret hidden deep within the walls, a terrible crime committed many years past, and a very real threat to their present…

THE DANCE IN THE DARK
Life at Rookwood School is looking up. There's a ballet recital Scarlet is desperate to star in, and more clues to uncover about the twins' mother.

But after their beloved ballet teacher Miss Finch suddenly disappears and strange Madame Zelda takes her place, freakish things start happening. Poison letters are circulating the school, and 'accidents' are plaguing the students. It seems that the girls are in danger once more…

Is someone out for the ultimate revenge?